.....the 400th post on this little ol' blog of mine!
It started out as The Life and Times on March 16, 2009 and switched fairly soon after to the current name of Not All Who Wander Are Lost and thus it has stayed!
(I keep trying to get this as my header, but can't get it to fit right!)
Let us take a little trip down memory lane, shall we?
In which I compare my relationship with God to that of my pink fuzzy slippers!
Which is also my first outfit photo!
In which I ponder the effects of having an overactive imagination and a crossroads in my life!
One of my first fashion events, so fun!
Awkward and Awesome!
.....and that brings us to the current post of 400th!!!!
In looking back I realized that I have changed from mostly writing (aka rambling) focused posts to fashion/this is what's going on in my life posts. I still throw in the odd opinion piece now and again, just to keep thing interesting! After all a girl has to have some place to air her often times against the flow views! ;-)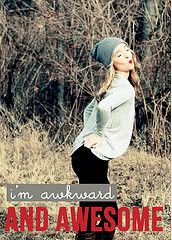 ~Awkward~

~Speaking of, sorry if the last Awkward and Awesome post offended anyone, I seemed to have ruffled some feathers and three people stopped following my blog within hours of posting.....I don't take back or regret anything I said, but I am sorry it seemed to have offended a few people!

~Awesome~
~I got to see the sequel to Phantom of the Opera!!!!!!!!!!!!!!!!!!!!!!!!!!!!!!!!

It was REALLY good and the music was amazing! The Phantom was a non-sissy sounding tenor (which is surprisingly hard to find, or maybe warble-ly males are the only ones who try out for Broadway.....) he could hit the high notes without sounding like a girl and didn't sound like he was about to burst into tears every time he sang. And Christine was just as amazing, a very pure soprano, and again the vibrato was there, but not so much that you couldn't tell what she was singing!

It was a movie made of a live production, but they had designed the production to be filmed, so it wasn't just a bunch of long shots from abve the audience.

There was also interviews with Andrew Lloyd Weber and some of the cast before the show started, my Mom and sister didn't really like that part, but trivia buff that I am, I loved it!

I will freely admit to tearing up a few times, all in all it was an amazing follow up to the original and if you ever get the chance you should definitely go and see it!

And if you look up videos on youtube of it (which you totally should if you are a fan AT all!) make sure to watch the ones from the Melbourne production!