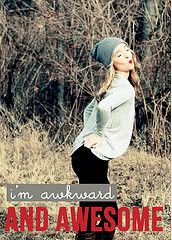 ~Not knowing if I'm supposed to link up every Thursday, or just once.....help anyone?? ;-)


~Not being able to hear out of my right ear.....at all! My hearing was already a little fuzzy because when I'm sick my right ear decides it's now a candle making factory.....ewww right? Well, the dewaxer I put in my ear has now completely cut off all hearing, hmm not exactly the result I was hoping for!!


~The game night at a friends house tomorrow.....why is that awkward you may ask?.....this is who's coming.....4 couples.....and me.....and they want to play Settlers of Catan..... in pairs....um right, okay me, myself and I will be on a team.....wait, that's one to many..... =P


~Having a little girl put "makeup" on you, and after she's all done you realize she's just slathered 8 different kinds of lip gloss all over your face.....getting that off will be super fun!
~Awesome~
~It's almost spring!!!!!!! The wind is getting warmer and it's raining, not snowing!

~Getting to sleep in this morning! What made it even more awesome is the fact that yesterday and tomorrow I have to leave for work at 6:00am, so getting to sleep till 8 this morning was super duper awesome!!

~I got two very lovely packages this week, both from blog/gift exchanges, a post on them is in the process of being written! Thanks girls, you know who you are!


~The movie Rango and the fact that the first seven seconds of this clip are still in there, it's seriously addicting!