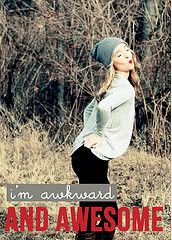 ~The fact I grabbed a banana and a banana cream pie yogurt for lunch, that's a lot of banana....speaking of awkward the word banana is really awkward to type!


~Never having tried Thera Flu and being enticed into it by the commercials with the cute but tough ( you know the type that makes you just want to take care of them) guys sighing happily over their mugs of steaming tea..... A few seconds later they're all geared up to go tackle their grueling outside jobs with big smiles on their five o'clock shadowed faces.....I took a big swig and just about gagged! It is like cough drops and cough syrup had a thick-mentholated-evil-little-comfort-promising baby!


~Chugging said mutant baby of cold medicines and feeling nauseous, I guess I am distracted from my stuffy nose and sore throat now.....


~The tattoo on the woman who was sitting in front of me at the pool, it was a pony surrounded by flowers, the picture of goodness and innocence right?.....Wrong! It was giving me the stink eye the whole 45 minutes of swim lessons.....we had a glare off.....I'm pretty sure he won.....


~You know those mini doughnut pans? The ones I thought were hyped up and in the words of Alton Brown, a useless uni-tasker? Yeah, turns out they're pretty awesome! Mom? We need to try ours, okay?=)


~Jumpin' Jade nail polish by Sally Hansen, it's the perfect dark sparkly teal and what is currently on my fingers!


~Finally finding the perfect outfit in which to mix stripes and floral.....pics at the end of the post!


~The fact I have a St. Patrick's day party to go to tonight, I love this holiday, everyone gets to be Irish on St. Patrick's Day!


~
The Butterfly Circus
, I dare you to watch it and not tear up at least a little! I love the ring master and am I the only one who thinks Nick Vujicic is pretty darn cute? ;-)
The Butterfly Circus 2009
by xavi10m
~What I Wore~
Green Shirt~ Faded Glory via eBay....it was part of a lot, so maybe it cost a $1?
Floral Shirt~ Jc Penny $7.80
Jeans~ Lane Bryant via eBay $15
Boots~Wal-Mart $17
Necklace~Made by me
Lori!!