Found this.....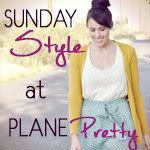 .....through a friends bog and thought I would join up! =)
We had our last outdoor service of the season and while I originally had planned on wearing something more fallish, my Mom threw a monkey wrench into my plans by giving me this shirt of hers I've been coveting all season and it went PERFECTLY with this skirt I could never find a shirt for, so springy colors it was!
Sorry for the less then stellar picture quality, these are cell phone pics I happened to have because my sister wanted to see what I was wearing to church!
Shirt: Dress barn via Mom, Cami: JcPenny, Skirt: Made by me
Shoes: Old Navy, Necklace: Kohl's, Earrings: Made by me, Bracelet: Shop-Ko