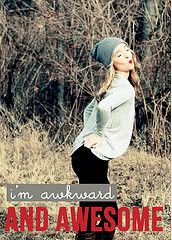 ~Having to tell people that I'm not the lady of the house or the Mom of the kids who are with me.....Oh, I'm not their Mom, I'm the nanny....they look so confused and turn and walk away. Where do you go from there?
~Awesome number one not exactly turning out the way I'd hoped.....
~You ever run out of deodorant on the first pit? You have a new one, and it's even the exact same kind, but then you put it on and you think that your pits smell way different and every time you move your arms, you feel like a lop-sided freak and you complain about it so much your Mom exasperatedly offers to smell them for you, and to her surprise, you say yes.....the results? One Mother destined for sainthood and one feeling of relief that I am not crazy, they did smell different!
~A PLAY I WROTE IS GETTING PERFORMED!!!!!!!!!!!!!!!!!!!!!!!!!!!!!!!!!!!!!!!!!!!!!!!!!!!!!!!!!
~My friend finally had her baby (she was a week over due!) and I can't wait to meet him!
~~The fact that my ring tone is the slugs from Flushed Away (Love, love, love that movie!!) singing Don't worry, Be happy! You type in The Slugs on my ring tone search and you get quite a few songs, who knew?
~The fact that my sexy intrigue comes value sized!
Yes, I am just that cool..........................
~
~
~
~
~
~
~
~
~
~
What did you think I meant? ;-)