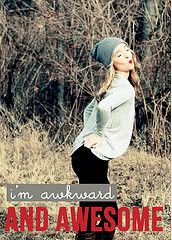 ~The fact that once again I celebrated Face Books Wear a Dress Day by wearing jeans....yep, someone who wears dresses or at least skirts 90% of the time has managed to miss all three Wear a Dress Days! *sigh* There's always next time.....
~The woman I house sat for this past weekend called me yesterday and we arranged for her to leave my money on a bench by her front door between 3pm and 4pm. When I got there, no envelope! As I was poking around the front porch, I failed to notice the older person walking by....so there I was sneaking around and finding envelopes full of money (I had to take the money out because I was supposed leave the house key in the envelope and put it back on the bench!).....that doesn't look suspicious at all!!! I sheepishly smiled and got out of there as quick as I could!
~Finally breaking down and using the locker rooms (I hate lockers rooms, naked people make me uncomfortable and I have a little kids tendency to stare....ya, I'm that mature!) at the pool when I took the girl I nanny to swim lessons, figuring it was swim lessons for kids how many adults would be showering at this time in the morning....the answer to that little question is two.....AWKWARD!!
~Recalling one of the reasons why I grew my hair out as I stare in the mirror at my fuzz ball of a hair do! It grows so fast, I really do need a trim every 4-6 weeks.....let's see, ease of care or cheapness, ease of care or cheapness? Which option will win out?
~ This manicure! It's Sally Hansen's nail strips, so far they've lasted really well! Only chipping where I couldn't get them smooth over the edges of my nails, so they caught on things! Each package only comes with 8 strips, so my thumbs are just painted hot pink. =)
~It's supposed to in the 70's and 80's this weekend!

~Finally getting to editing last years NaNoWriMo entry and finding it's not as in need of editing as I feared! Though in re-reading it I did realized how much I once again based my characters on real people.....that's perfectly legal, right?

~BUBBLE TEA! Almond or coconut with a green tea base and tapioca pearls to be exact! Mmm, yum! =)