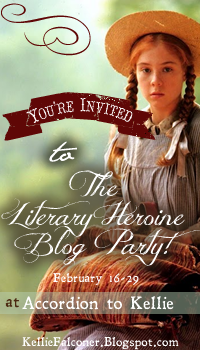 I'm supposed to introduce myself, so here I go! My name is KatySue Pillsbury, I'm 25 and love reading, writing, sewing, jewelry making and all things food related! =)
Hmm, something random about me.....one of the items on my bucket list is to slap someone across the face, but only if they really deserve it, you know? So don't make me mad or you might be the person that helps check that particular item off of my bucket list! ;-)
What, to you, forms the essence of a true heroine?
A heroine to me is someone who will stand firm on what she believes in, but can also see the necessity of change! Can roll with the punches keeping her wits about her, and someone who is hopelessly flawed, I like to relate to my heroines!
Share (up to) four heroines of literature that you most admire and relate to.
Jo from Little Women, it's eerie how much I can understand what she's feeling (I can hardly read the chapter where Amy burns her book, I get so mad and yell at the book, Amy so didn't get in enough trouble for what she did!) and she also has my dream life at Plumfield!
Anne of Green Gables, her dreaminess and knack to get into trouble. I've been compared to Anne on more then one occasion!
Anne Elliot from Jane Austens Persuasion, every time I read this book I'm stunned at how much I feel like her, feeling like she been left behind and the everlasting waiting for something. But, she doesn't let it get her down, don't get me wrong she has her moments of internal struggle but she doesn't let it show. She she is a helpful, happy and has a genteelness of spirit I strive to have myself!
Five of your favorite historical novels?
Gone With the Wind
Eight Cousins (Louisa May Alcott)
Persuasion
What Katy Did
The Bronze Bow
Out of those five books who is your favorite main character and why?
Melanie form Gone with the Wind, she is just so good and kind. She has a peace about her that she spreads to those around her, even in the midst of a war! She has always been my favorite character ion the book!
Out of those five books who is your favorite secondary character and why?
Cousin Mac from Eight Cousins, he's an adorable bookish fellow who is slightly absentminded and isn't afraid to stand up for what he believes in! (Though I think you see more of that in the second book, Rose in Bloom!)
If you were to plan out your dream vacation, where would you travel to - and what would you plan to do there?
As for what I'm going to do there? Wander and soak up the green magic that makes Ireland so irresistible to me! Oh, and listen to the lovely accents all around me with a big stupid smile on my face!
What is your favorite time period and culture to read about?
Ireland.....anytime! But seriously, I love Irish history and haven't read a book about a time period there that I haven't liked. My Mom tries to get me to turn the focus to another country, but so far it hasn't worked!
You have been invited to perform at the local charity concert. Singing, comedy, recitation - what is your act comprised of?
Comedy! Because the outcome of any of the above would cause raucous laughter, so why not call it what it is from the start! ;-)
If you were to attend a party where each guest was to portray a heroine of literature, who would you select to represent?
Jo form little Woman, like I said before, I connect with her on an almost eerie level! Besides, I already have a civil war costume!
What are your sentiments on the subject of chocolate?
Favorite author(s)?
Louisa May Alcot
Jane Austen
Ryhs Bowen
Robin McKinley
Tamera Pierce
Dan Brown (Don't judge!)
Clive Cussler (Again, no judging!)
L.M Montgomery
Douglas Adams
Rick Riordan
Georgette Heyer
Christopher Paolini
etc etc etc!!!
Besides essentials, what would you take on a visiting voyage to a foreign land?
Camera, journal, a few favorite books! Never having traveled I can't come with anything else!
In which century were most of the books you read written?
21st...I think!
In your opinion, the ultimate hero in literature is…
Gosh, I don't know.....It would have to be a tie between Gilbert Blythe and Sherlock Holmes!
Describe your ideal dwelling place.
CLICK HERE
to read the rather long answer to this question!
Sum up your fashion style in five words.
Vintage, bohemian, romantic, prairie chic!
Have you ever wanted to change a character's name?
A characters? No. Mine? Yes! Candy with a K was the longest lasting one..... =P
In your opinion, the most dastardly villain of all literature is...
Doubt!! Nothing can throw our hero/heroine for a loop like doubt!
Three favorite Non-fiction books?
The Hiding Place
All Creatures Great and Small (I'm pretty sure those are non-fiction!)
How the Irish Saved Civilization
Your duties met for the day, how would you choose to spend a carefree summer afternoon?
It would totally depend on how I was feeling that day, but if I could really pick anything, roaming about some pretty pocket of wilderness, with a few good friends, a picnic, books, cameras and all dressed in wellies and skirts of course! =)
Create a verbal sketch of your dream hat - in such a way as will best portray your true character.
A simple straw boater with a bright ribbon band ribbon band and a feather/flower tucked in the ribbon! Simple and old fashioned with a touch of whimsy!
Share the most significant event(s) that have marked your life in the past year.
The fact that I'm going to be an Aunt soon is the biggest news this year!
Share the Bible passage(s) that have been most inspiring to you recently.
Phil 4:11 Not that I speak in regard to need, for I have learned in whatever state I am, to be content.
Phil 4:4 Rejoice in the Lord always. Again I will say, rejoice!
(I think the Lord is telling me I need to be happy and content!) =)